International exhibitors shipping full container load shipments to U.S. Trade Shows face penalties and risk delaying delivery of their exhibits if they fail to follow new legislation on sealing containers now in effect. As of October 15, 2008, all maritime containers in transit to the United States are required to be sealed with a seal that meets the International Organization for Standardization Publicly Available Specification (ISO/PAS) 17712 standard, according to U.S. Customs and Border Protection (CBP).
"The new regulations affect all cargo arriving at U.S. ports, including cargo for trade shows and exhibits," explained Phil Hobson, President, Phoenix International Business Logistics, Inc. (PIBL). "It is critical that U.S. importers educate their overseas suppliers on the new cargo sealing regulations and the importance of using the correct seals. Shippers who fail to meet the regulations may be fined and delivery of their cargo may be delayed. For international exhibitors, failing to meet regulations puts them at risk for missing the scheduled trade show."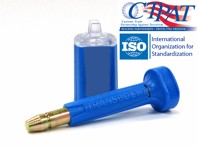 ISO/PAS 17712 container freight seals meet or exceed certain standards for strength and durability to prevent accidental breakage, early deterioration (due to weather conditions, chemical action, etc.) or undetectable tampering under normal usage. ISO/PAS 17712 also requires that each seal be clearly and legibly marked with a unique identification number.
All containers arriving by vessel at a port of entry in the United States on or after October 15, 2008 are subject to the new rules, with a few exceptions. Tanks, non-standard containers, or custom-built containers that cannot accommodate a seal meeting the ISO/PAS 17712 standards are not subject to the new requirements, according to CBP. Shippers will be in violation of the law if containers subject to the statute are not sealed or have seals that fail to meet ISO/PAS 17712 standards. CBP notes that it may assess a civil penalty against the party responsible for any violation of this requirement but that it intends to phase in any such penalty assessments.
The new regulations come as a result of legislation to implement certain recommendations formulated by the National Commission on Terrorist Attacks Upon the United States (9/11 Commission). One such recommendation required the Department of Homeland Security (DHS) to establish minimum standards and procedures for securing containers in transit to the United States. The DHS was given a deadline of April 1, 2008 to issue new rules for securing containers. When it failed to establish new rules, Congress stipulated that all containers in transit to the United States would have to meet requirements of the IOS/PAS 17712 for sealing containers effective October 15, 2008.
If you have questions regarding the regulations or need further information on seals that meet ISO/PAS 17712 requirements, contact Phil Hobson, President, PIBL, at 908-355-8900. PIBL is a licensed U.S. customs brokerage firm providing international transportation services, project management, fair/exhibition services, warehousing, distribution and more to companies around the globe.
This legislation alert from PIBL is provided as a courtesy to our professional partners. Detailed information regarding this legislation can be found by visiting http://www.cbp.gov/xp/cgov/newsroom/fact_sheets/port_security/container_sealing.xml