Phoenix International Business Logistics, INC


Project Management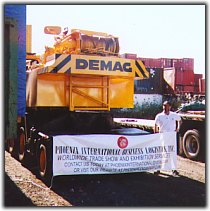 Phoenix staff members have many years of experience handling door to door turn-key projects. Our structure, services and systems are designed to handle large scale projects. We can manage or provide support services to all of the logistical elements involved in getting materials to a project, on time, cost effectively and without damage. Our services consist of, but are not limited to:
COST AND ROUTING CONSULTANCY DURING THE BIDDING PROCESS
SOURCING MATERIALS
CUSTOM PACKING AND CRATING
CONSOLIDATION AND MARSHALLING OF MATERIALS
PURCHASE ORDER TRACKING AND ORDERING MATERIALS FORWARD FROM VENDORS AS SCHEDULED
OCEAN VESSEL SELECTION AND CHARTERING SERVICE
AIRCRAFT SELECTION AND CHARTERING SERVICE
CONTAINERIZATION AND NVOCC SERVICE
SECURING SPECIALIZED TRANSPORT AND LIFTING EQUIPMENT
ORIGIN TRANSPORTATION AND JOB SITE DELIVERY
PORT CAPTAIN ATTENDANCE AND RIGGING SERVICES
Our commitment is to see a project through its conception to completion. We try to have contingency plans in place during all phases of the project that can adapt to changing conditions that may have an impact on the project's logistics. We also work with our project clients to assess risks, measure performance and evaluate asset deployment and potential opportunities.
---